How to add text to your designs in PosterMyWall
A design without text is just a background, or a collage. To take your first steps of becoming a designer, we'll take you through how you can add your own text in the PosterMyWall. Watch the above video for a quick tutorial. For more details, keep reading.
Here's how you can add plain text to your design:
Click the 'Text' button on the left selection bar.
Then select 'Add Plain Text'.
An 'add your text' text box will appear on your design. Click the text box once and start typing your content.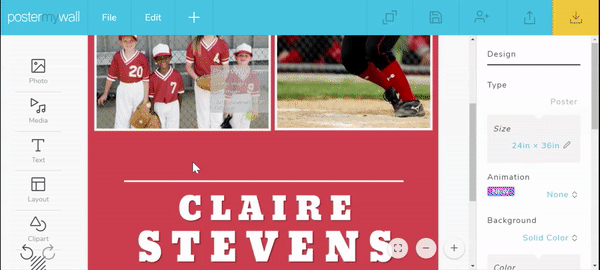 You can also paste copied text content into the text box. Hold and drag the text box to move it around your design.
Customizing text content
Text content is also easily customizable. You can customize your text by selecting your text item, and on the right menu, find the relevant customization options under 'Styles'. Here's what you can do.
Change font size
Change text font. Choose from a wide range of fonts, updated regularly
Change text colors. You can also use the color picker tool to pick the exact color hex-code from your design
Change text alignment, letter spacing and line height
Gradient background: add a linear or a radial linear background to your text.
Vertical alignment: align your text upwards or downwards.
Shadow: add a light, strong, or custom shadow to your text.
Change text style
Other than the above mentioned customizing options, you can also change font styles in 4 ways:
Bold (B button)
Italic (Italicized I button)
Underline (Underlined U button)
Strikethrough (S with strikethrough button)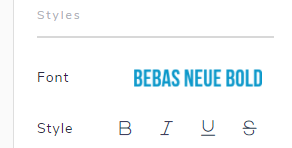 Text styles can be stacked on top of one another, allowing you to underline, bold, italic and strikethrough the same text box, or do other combinations.

Text styles can be used for any plain text items, including menus, schedules, tables, tear-off tabs and slideshow animations. Text styles are not available with Fancy text.
Edit text positioning
You can also change text positioning, duplicate and remove text items via the 'Position' tab in the right contextual menu. Here are the available options and their uses:
To back: Send your text item behind all other design elements.
Backward: Send your text item back with respect to other graphic items in the design. Clicking multiple times will move the design behind all other graphic items.
To front: Bring your text item in front of all other design elements.
Forward: Bring your text item forward with respect to other graphic items in the design. Clicking multiple times will move the design at the front of the design.
Copy text: Create a duplicate of your text item.
Delete text: Delete your text item. Use they undo key to restore the text item.
Alignment: Align your text item with respect to the design canvas.
And you're all set. To continue on your learning journey, we recommend watching how to add photos to your design.