Want to make them stop and stare? Add an element of drama to your designs with fancy text.
Fancy text goes above and beyond simple font changes and you can use the variety of metallic, fiery, impactful and calm text effects to tell your story in a new way. Read on to learn more about incorporating fancy text in your design, or watch the quick tutorial video above.
How do I use fancy text?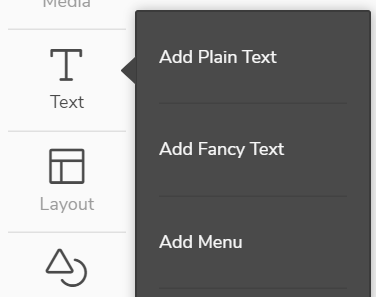 The first step is to open your design in the PosterMyWall editor. Click the 'Text' button and select 'Add Fancy Text'. You can now create your own fancy text via the the fancy text menu.
Creating fancy text has 4 steps involved:
Add your text
Select an effect
Select a font
Add a Text Shape (optional)
Add your text
In the 'add your text' box on the right side of the fancy text menu, add your text first. A fancy text preview of your text will appear right above the text box. Changing font, effects and text shape will change the preview in real time. The text box cannot exceed 50 characters.
Selecting effects
You can create wonderful and fun effects over your text items, like a burning text look, a cool metallic tint or something straight out of a retro movie. Check the preview to see what works best for your text item.
Some text effects have editable color options, and the number of editable colors can vary from 1 to 3. You can text colors by clicking the colored boxes right below the text box.
Select a font
Choose a font from a wide range of text fonts. Check the preview to see which fonts work best for your text.
Note: Not all text fonts available for plain text are available for use with fancy text.
Add a Text Shape
Add a shape to your text, such as a curved arch, a wave or a wedge in a certain direction. This step is optional.
Once you're done, click the blue 'Add Fancy Text' and your text will be added to your design.
Hold and drag are fancy text to move it like any other graphic item around the design. Hold the boxes on the corners of your selected fancy text to change it's size. Fancy text can only be resized this way.
Editing fancy text
You can edit your fancy text after it's been added to your design. To edit your fancy text, select it, and you'll find all editing options on the right column of the editor page.
And you're all set! Head over to the PosterMyWall gallery, pick a template and start customizing fancy text.