How to add a schedule to your designs with PosterMyWall
The PosterMyWall schedule maker is an excellent tool to create programs, timetables or schedules for your events. Use schedules to convey important information without cluttering your design.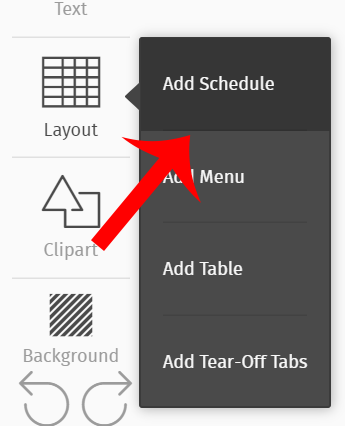 To create your schedule, click the the 'Layout' button in the editor, then select 'Add Schedule'. From there, you will be taken to the schedule maker interface: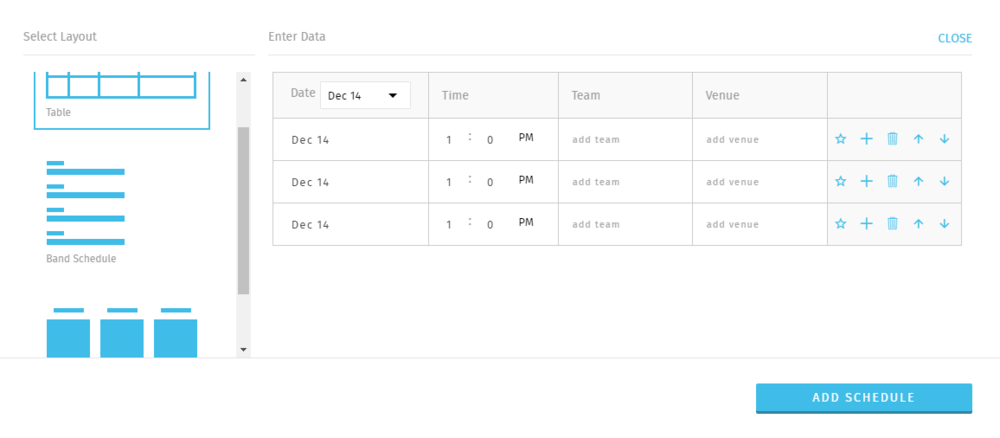 We will guide you through everything going on in this page. The icons on the right side will come in handy, here's what they do:

Star: It allows you to highlight a row. You can highlight multiple rows. You can set highlighted rows to have different colors from non-highlighted rows.
Plus: Creates a copy of the row.
Trashcan: Deletes the row.
Up arrow: Moves the row one row up.
Down arrow: Moves the row one row down.
The number of columns in schedules is fixed, though you can change the number of rows anytime you want. In each column, you will add information such as date, time, team or venue (team is absent in a band schedule).
The collapsible date menu allows you to set the date the way you want, for example, December 14, 2016 as 12-14-16 or 14-12.
If you've filled out the information and set the number of rows as you require, you're halfway done!
Now we talk about aesthetics.
Styling Schedules
Once you've decided your schedule content you can close the schedule menu and go back to the editor to find a variety of options to customize your selected schedule. Some of these are:
Border
Text styles
Background
Border
Border setting in schedules is set to 'no borders' by default. You can change it to add either rectangular or rounded borders. You can also change the color and thickness of borders.
Use the 'Horizontal Spacing' and 'Vertical Spacing' sliders to make the schedule wide or compact. This applies even if the schedule is set to 'no borders'.
Background
You can set the background to either be transparent, which is set by default or you can use color, and then select the color of your choice from the color palette. The color palette recommends colors based on your color choices in the design.
You can also set the opacity of the background color (set to 50 by default). Here are some schedules with colored backgrounds.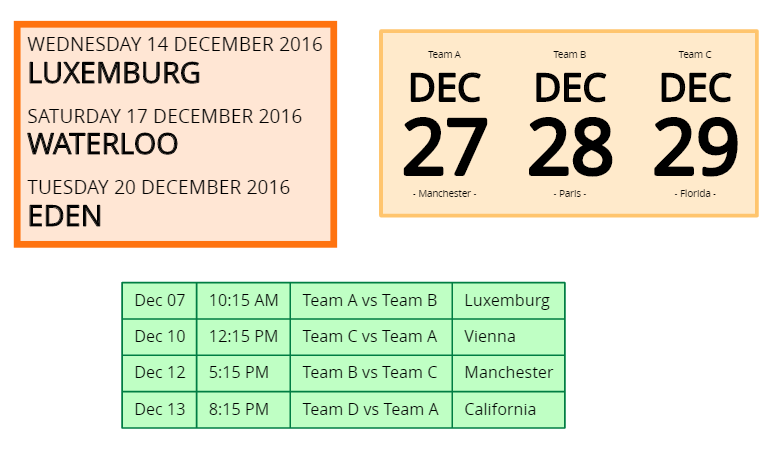 Text Style
Text style allows you to set:
Size
Font
Color
Alignment
Line Height
Letter Spacing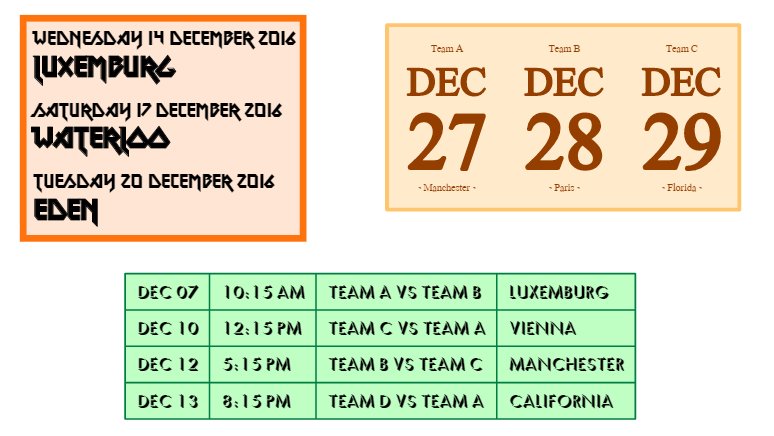 Use these options to optimize the text content to fit with the rest of your design. Changing any of these options applies to every text item in your schedule.
Your schedule is now ready to use!