Want to capture the attention of your audience on social media? It's easy and doesn't require big budgets. You can design social media graphics with our easy-to-use-tools and publish with just a click.
To learn more about social media publishing, watch the quick tutorial video above or continue reading this blog post.
How to publish designs to social media with PosterMyWall
You can create and publish your social media post all from one page. In the PosterMyWall editor, design your social media post and once done, you can publish via the yellow download button. Here's what you need to do:
Click 'Publish' on the top right of the editor.
Now select Social Media.
Enter your caption, select the page you'd like to post on and publish.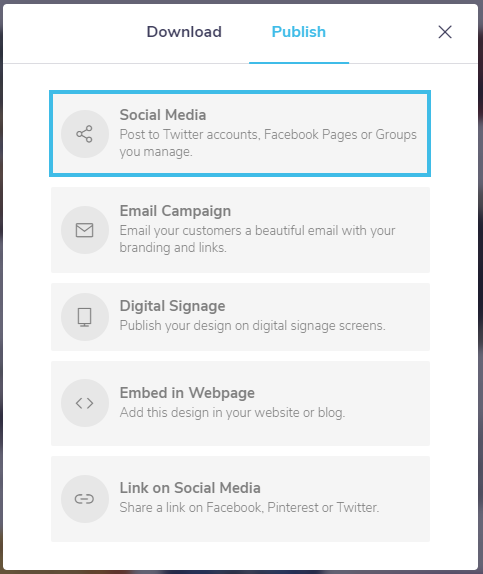 Posting on a Facebook Group
Please note, you can only post on a Facebook group if you are an administrator. You will need to add the PosterMyWall app to the group's whitelist before you can post.
This can be done by using the publishing option, select the group you'd like to post to, and hit 'publish'. You'll find an error similar to what's shown below.

Click 'click here' and you'll be taken to your group settings, with an option as shown below.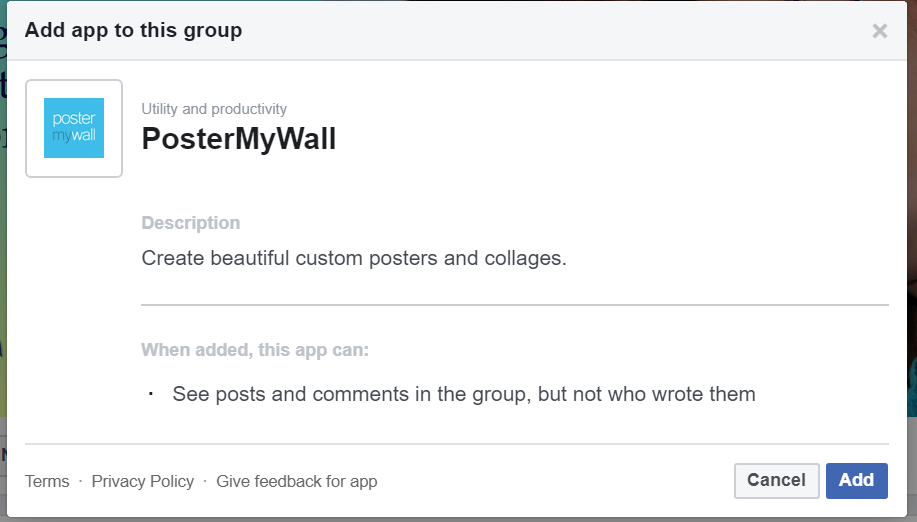 Click 'add'. Go back to PosterMyWall, and you will be able to post and schedule content to your group.
Publishing on Instagram
You can publish content on your Instagram account via your PosterMyWall account from your laptop, tablet or mobile. You need an Instagram Business account to publish content via PosterMyWall.
To learn more about publishing content on Instagram, see our help center article on Instagram publishing.
Publishing costs
Publishing (and scheduling) on social media is not free, though if you've purchased the design you need to post, then it's free. Here's how it works.
If you're not subscribed to PosterMyWall Premium or Premium plus, you can still publish your designs for free, however the published design will have a watermark. However, you can avoid this by purchasing the design in advance, or by using the 'pay and publish' option in the publishing interface.
If you want to publish for free, just use the slider, as highlighted below.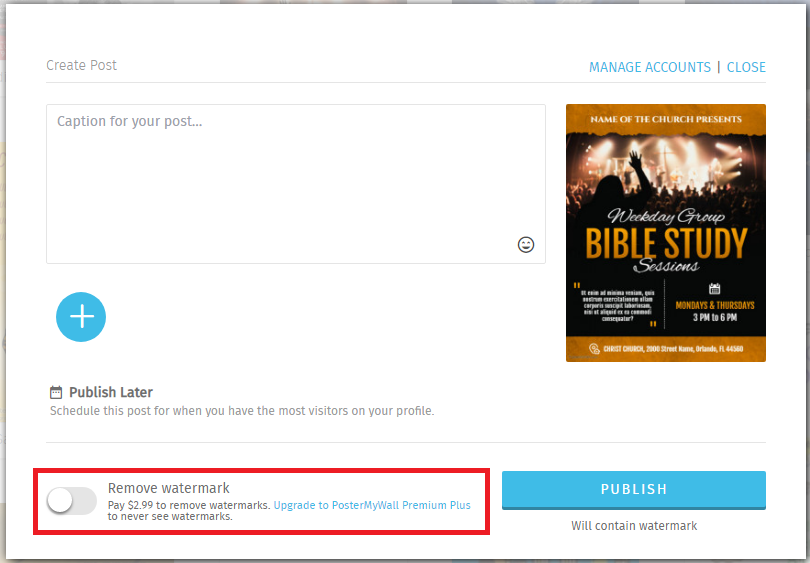 For Premium subscribers, all images (that do not contain Getty stock) are free to post, and will not contain a watermark. Images with Getty stock and videos can be posted for 1 and 2 Credits respectively provided they haven't been purchased already. In that case it will be free to post.
For Premium Plus subscribers, images and videos (that do not contain Getty stock) are free to post and will not contain a watermark. Images and videos with Getty stock can be purchased with Credits.
And that's everything you need to know about publishing on social media via PosterMyWall. Happy posting!