Halloween is right around the corner, and do you know what that means? Promotions, sales, and seasonal events galore! Ready to boo-st sales? Then you'll need click-worthy subject lines and hair-raising incentives that warrant a scream! You've got a month to create and implement a Halloween email campaign. Fortunately, these tactics are easy and effective.
Ready to fill your subscribers' candy-bag with a Halloween email that warrants a click? Dim the lights, cue the Monster Mash, and get ready for bone-chilling results.
But first…
What's the scoop on Halloween email marketing?
Email marketing goes hand in hand with seasonal holidays. Why? Because people are on the hunt for exciting news and deals around special days. Halloween is no different.
With email marketing, you speak directly to your audience, and they eat it up like candy corn. In fact, 81% of companies use email as their top acquisition channel, according to Emarsys.
Why is this relevant to Halloween? Because as a small business, you want new customers, right? And people tend to spend more during holidays like Halloween. For example, the average consumer spends roughly $86.00 on Halloween. Ultimately, you want them to open their wallets for your business.
Good news, because email marketing is the best (and easiest) way to boost holiday-themed specials, deals, and events. Check out this guide for email marketing for beginners.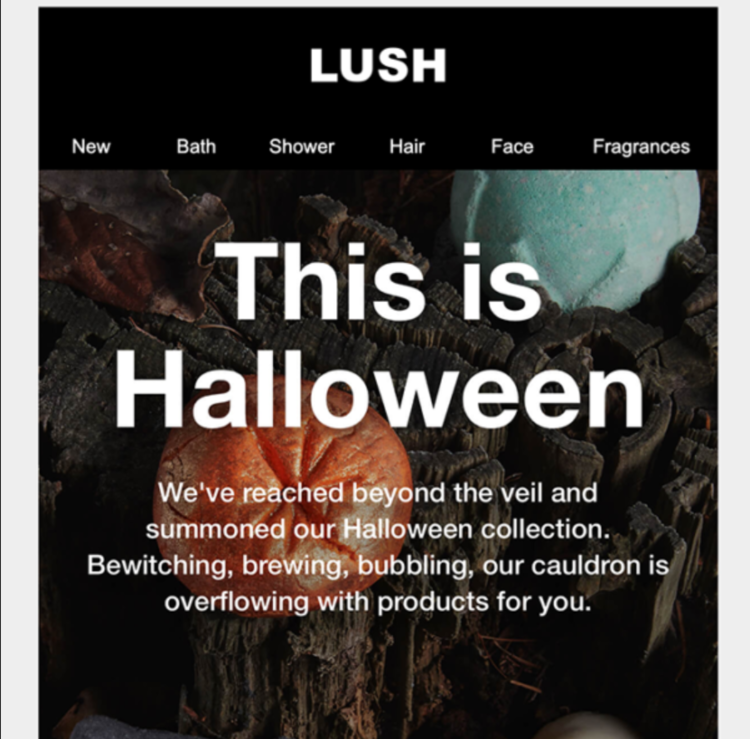 There's no reason to stay in the dark on Halloween email marketing. Get ready, because these tactics will have your customers yelling trick-or-treat in no time.
Let's get started.
Spice up your email subject lines
Let's talk about the most critical aspect of a marketing email: the subject line. This is the shortest bit in your email, but the most crucial. If it's flat and impersonal, the email's going to trash faster than a sugar-fueled child running from the Boogey Man. How will you make sure they open your email? By writing catchy, punny subject lines that hook them.
Why? Because 22% of recipients only open emails with catchy subjects. Think about it: which of these subject lines would you rather open?
Shop Halloween-Themed Crocs
Or…
Croctober is here. Halloween is near!
The first subject line tells you what's in the email, but it's not exciting or personalized. The best email subject lines grab attention with a hook that teases people's curiosity. Even better if you can stay on brand, like the second real example from Crocs' Halloween newsletter.
When it comes to effective subject lines: use puns, catch-phrases, and active sentences that warrant a click!
Spook them with scary-good imagery
The hardest part of a good email is writing a subject line that leads to an open. Once readers open the email, you want to follow through with your subject's promise. Best way to do that? With moody email headers and imagery. Email banners, headers, and visual assets are far more engaging than hum-drum walls of text.
Studies show people are 80% more likely to read content broken up by compelling visuals like photos, infographics, and videos.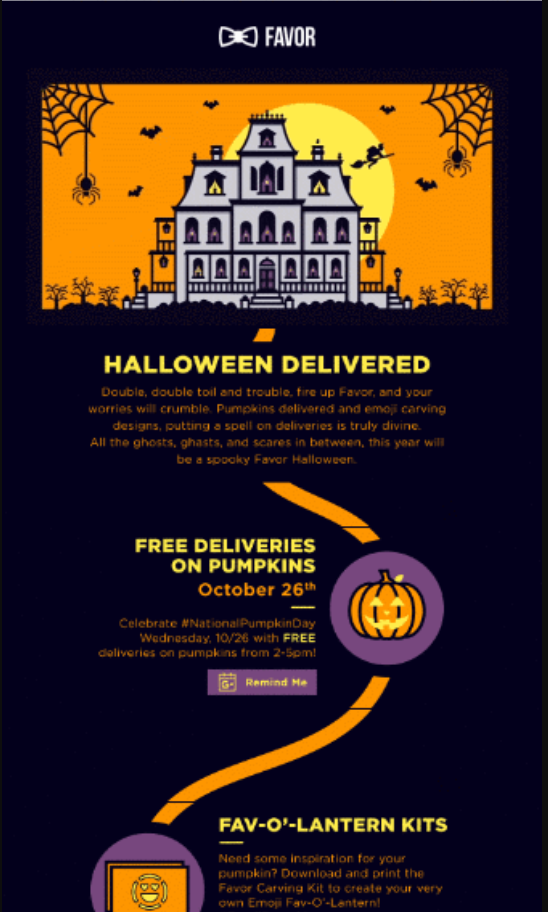 How can you boost their engagement? By creating attention-grabbing visuals. You can easily create email banners from one of our professionally-designed Halloween templates. All you have to do is choose a scream-worthy design and customize the text to match your message!
Make your email interactive by adding links, sections, and buttons that lead customers straight to your business. A good email is a roadmap that leads straight to a sale. Browse through hundreds of exciting email templates to make your own pick!
You've got a hair-raising subject line and frightfully good imagery, but is that enough?
Throw a Halloween spin on the content
A strong subject line is the trick, but what about the treat? You'll need to offer something fresh and unique if you want readers to take action. Ultimately, you don't want to hit them with yet another sales-y, corporate marketing email.
Instead, theme your seasonal offerings around Halloween. Here are a few ways to do that:
Host a Halloween giveaway — Have subscribers enter into a giveaway raffle for a chance to win a $100 gift card or discount code to your site.
Offer a themed freebie with every purchase. For example, if you own a retail store, why not throw in a pair of Halloween-themed socks for every purchase, like this freebie from Sock Fancy?
Give discounts on seasonal items — This tactic isn't new, but consumers tend to expect discounts on holidays. If you own a home décor store, why not offer a 20% "Spooktacular" sale on all seasonal Halloween items?
Adding a special offer to your Halloween email marketing campaign is a surefire way to push readers to your site and participate. Of course, you don't want to hit them all with the same messaging, because your recipients aren't all the same, are they? 
Let's hope not, because that would be downright terrifying!
Segment your emails for specific audiences
Whether your business has a niche-demographic or multiple customer profiles, market segmentation is crucial for email marketing. For example, you wouldn't send a family promo for Halloween toys to a college student. That's where segmented emails come into play.
When creating Halloween-themed newsletters, make several designs for each segment of your clientele. Browse our wide collection of Halloween-themed newsletters, and easily customize a few options for each list.
Email segmentation helps you connect the right customers to the right messaging. And honestly, it's a fundamental part of email marketing.
Fortunately, segmentation is easy to implement. Here's how:
Examine your audience data. Look at your data points like purchase history, buying patterns, and consumer details to examine which products perform best with certain demographics.
Group customers into profile lists. To start, segment your audience into lists by age. For example, you'll want a list for 20-somethings, families with children, millennials, baby boomers, gen xers, etc.
Design emails for each list: Create a campaign for families offering free toys, and discounts on children's costumes. Further segment your lists by gender and create additional campaigns promoting seasonal accessories for women and men.
If you nail segmentation, you'll save emails from falling into the graveyard of spam or trash folders. Once you're done designing separate emails for each of your segments, start sending them out. PosterMyWall lets you publish your campaigns directly from the website and measure their performance. You get to sift through performance metrics to see what you might want to do differently in future campaigns.
The magic potion for successful Halloween emails
A frightfully good Halloween email will excite your recipients and get them hyped up for Halloween. The magic potion for successful halloween emails is simple:
Tease them with catchy subject lines that tickle the inner child who wants to revel in all the gore and galore of Hallow's Eve.
Haunt them with ghostly visual imagery that compels them to participate in your promotion. Try something funny.
Trick them with a treat they can't refuse — offer a freebie or giveaway worth clicking for!
Spook them with segmented content that's personalized and tailored to their unique interests.
Now you can edit email templates and publish them all on one platform- PosterMyWall's Email Maker. Read this step-by-step guide to set up your first email campaign. Get ready to serve up a ghoulishly delicious recipe for success this Halloween with clever email marketing that'll have them howling at the moon. Happy Haunting!
Senior editor at PosterMyWall.