Diwali, also known as The Festival of Lights, is a festival which originated in India, and is now celebrated all over the world. This special occasion, which celebrates good defeating evil, is marked by lighting of thousands of clay lamps, fireworks, sweets and communal prayers. It's a festival limited not only to Hindus, but also to people of other religions, as it is a time of spreading happiness, and getting together with family and friends.
With festivities comes a period of preparation, and with that comes a lot of work. Apart from prepping and setting up decoration, letting others know about the Diwali event is equally important, Luckily, PosterMyWall offers you the tools to create great looking visual content for your event, though you're not limited to just posters or flyers. If you've created an event through social media (such as Facebook), we offer templates of all sizes, optimized for social media. Check out our gallery of templates dedicated to Diwali.
Below are some templates that you may find useful or inspiring, which you can customize and use for your event.
Earthen tones and simplicity
Created by Derek Makila, he decided to keep things simplified, giving more room for important details while avoiding clutter. This approach saves you time while giving you excellent results. The use of warm earthen colors brings with it a calm to the designs. It also resembles the color of Henna and clay lamps, both prevalent in Hindu culture.
Use modern design practices
We love this poster because it has only the bare essentials presented elegantly. The font usage, size, color use and placement of various graphic items makes it a design that's easy on the eyes, and offers information clearly. This template was created by Sirle Kabanen.
Henna Inspired Designs
A poster that promises serene festivity, as depicted in it's lovely background. The orange and white font contrast nicely with the black color, and the intricate filigree work matches with it. Design by Created by Me.
Created by Renee Walls, this beautiful design showcases a modern rendition of the temporary henna tattoos often applied to the hands of Indian women. The earth tones coupled with the bright layout really makes the design pop.
Bright colors to inspire action
Earth tones are great and all, but bright colors have a world of its own. As earth tones present calm, meditation and serenity, bright colors present action, decisiveness, and in the case of this Diwali wish, lights and fireworks! Designed by Vijay Patidar.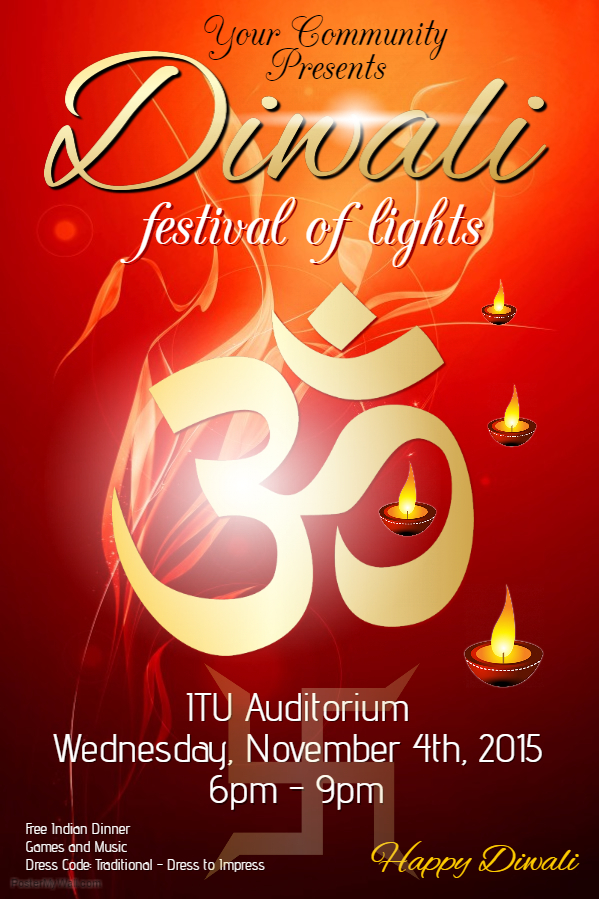 This Diwali poster really stands out from the rest, thanks to its bright orange and red color shades. The color red represents action and passion, so the biggest call to action here is it's vibrance. Designed by Cantabile.
Get layouts from photos and stock images
A good photograph can work as a great layout for your poster as seen here. Just take a good photo from one of your past Diwali events (or use stock graphics) and edit it on the Poster Maker. It will get resized easily to poster size. You can also use stock photos if a photograph isn't available.
You can upload your photo as either the background of the poster or as an individual image. Note that your photo should be high resolution to look good on your poster download and prints.
Be bold with fonts
A bold approach to your poster looks great especially if your goal is to advertise a discount for Diwali. The bold font demands your attention, and the bright contrast helps with that. Created by Renee Nicole.
You will find more templates in our Diwali poster gallery at PosterMywall. You can also check out our Pinterest to get more ideas for designing a poster for Diwali or any other event.
Senior editor at PosterMyWall.