Want to make your designs more engaging? Now you can make your digital posters pop with image and video slideshows. Not only do slideshows make your design more dynamic and visually appealing, but they also allow you to display a lot more content in less space.
So how does this feature work? Watch this quick video to learn more:
How to use slideshows
Use image and video slideshows to create text, image and video slideshows anywhere in your design. This is an easy way to create dynamic visual content to wow your audience.
Start by clicking on the "Add Slideshow" button that appears in the dropdown menu of the "Text", "Photo" or "Media" options on the left. Choose "Photo" before finding the "Add Slideshow" button if you want your first slide to be a photo. Choose "Media" if you want your first slide to be a video. Choose "Text" if you want your first slide to be text.
Once you've made your choice, you can add photos from your computer, Facebook, Google Drive, or Dropbox. You can also choose from a range of stock photos. You'll get the same options for video if you choose "Media" instead.
Once you've added your photo or video, use the editor on the right to make adjustments to it. Right below the "Slides" header in the editor, you will see a bunch of options to add slides.
Click the "T" button to add a text slide.
Click the photo button to add an image slide.
Click the play button to add a video slide.
You can set the slide duration and order according to your need.
Let's say you added a photo, and then a video. As you can see in the screenshot above, your photo will show for 3 seconds, and then the video will play for 9.6 seconds. You can change the time to suit your preferences.
You can also add an intro delay to your slideshows.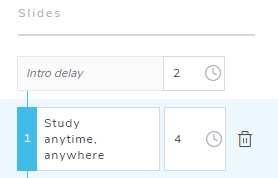 Just add the time (in seconds) beside the 'Intro delay' text box. If you've added a 2 second delay, the slideshow will start 2 seconds after the video starts.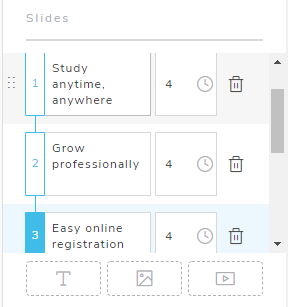 Below these options, you'll see multiple transition options and the speed at which the transitions occur. You can also choose whether or not to have an intro and outro transition.
These are the transitions available to you:
Fade (default option)
Block
Shrink
Peek down (up, left or right)
Wipe down (up, left or right)
Pan down (up, left or right)
You can further edit your individual slides like normal photos and videos. You can crop, replace, remove background, or mask your photos. And you can trim, change and mute or unmute your video. What's more, you can also add a link and effects to your content. All editing options for text, photo, and video slides will be available for use.
You can also standardize your photo or video formatting by formatting one slide, and then clicking on "Apply" under "Effects" when prompted.
Slideshow is free to use, and because of all the formatting and editing options available for the different kinds of slides, it allows you to be as creative as possible during the designing process. Want to promote a party by showing people how much fun it was last year? Simply incorporate photo and video slides into your poster to show your audience what they'll be missing if they don't come.
New to PosterMyWall? Start designing today and check out what image and video slideshows can do for all your promotions.
Senior editor at PosterMyWall.