Make your designs pop with animated text! Bring life to your words with engaging text animations using different font styles and text effects. To learn more about using animated text, watch the above video, or continue reading this blog post.
How to add animated text with PosterMyWall
To create text animations:
Click 'Text' from the left menu
Select 'Add Slideshow' from the expanded options.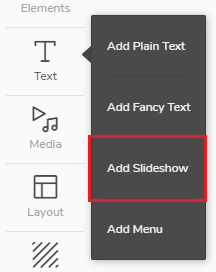 On the right contextual menu, you can add your content under from under the Slides tab. Click the 'T' button to add a text slide.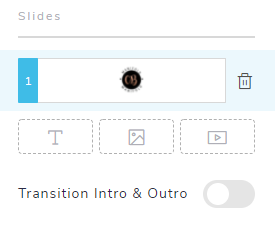 Use the small square box besides the slides text box to set the time duration for each slide, in seconds. It is set to 3 seconds by default. Use the media controls on the bottom left of your page to play or stop your slide.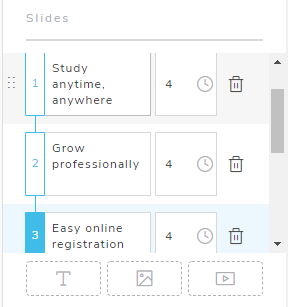 Going back to the Slides tab, you can also fine tune the time between various slides. Just add a number (in seconds) in each text box with the clock symbol. For the above example:
'Study anytime, anywhere' will appear for 4 seconds, then disappear.
The slide will soon be followed up by a 'Grow professionally' slide which will also stay for 4 seconds.
After 4 seconds, the 'Easy online registration' will appear for 4 seconds then disappear once 4 seconds pass.
That's all there is to it. Your text animation is ready to go!