If you're creating posters or flyers for a band's tour or your team's next football game our new feature is specifically for you. Use our new Layouts feature to create Tables and Schedules for your next event be it sports, a concert or something else.
Schedules
Schedules are a handy tool, which allow you to set the date, location, time and other information (such as team names) in the form of a table. They come in 8 kinds of layouts; concert schedule, sports schedule, table and their various styles.
Click on any of the schedule templates below to customize in the PosterMyWall editor. Read on to learn more about schedules:
Concert schedules
Concert schedules are available as 3 layout orientations; left, right and center. Change the schedule orientation seamlessly via the schedule maker with the click of a button.
Sports schedules
Sports schedules come in 3 different layout styles, and can be changed at anytime via the schedule maker tools available at your disposal. Use sports schedules for all kinds of sporting tournament content, such as football banners, cricket posters, and baseball flyers.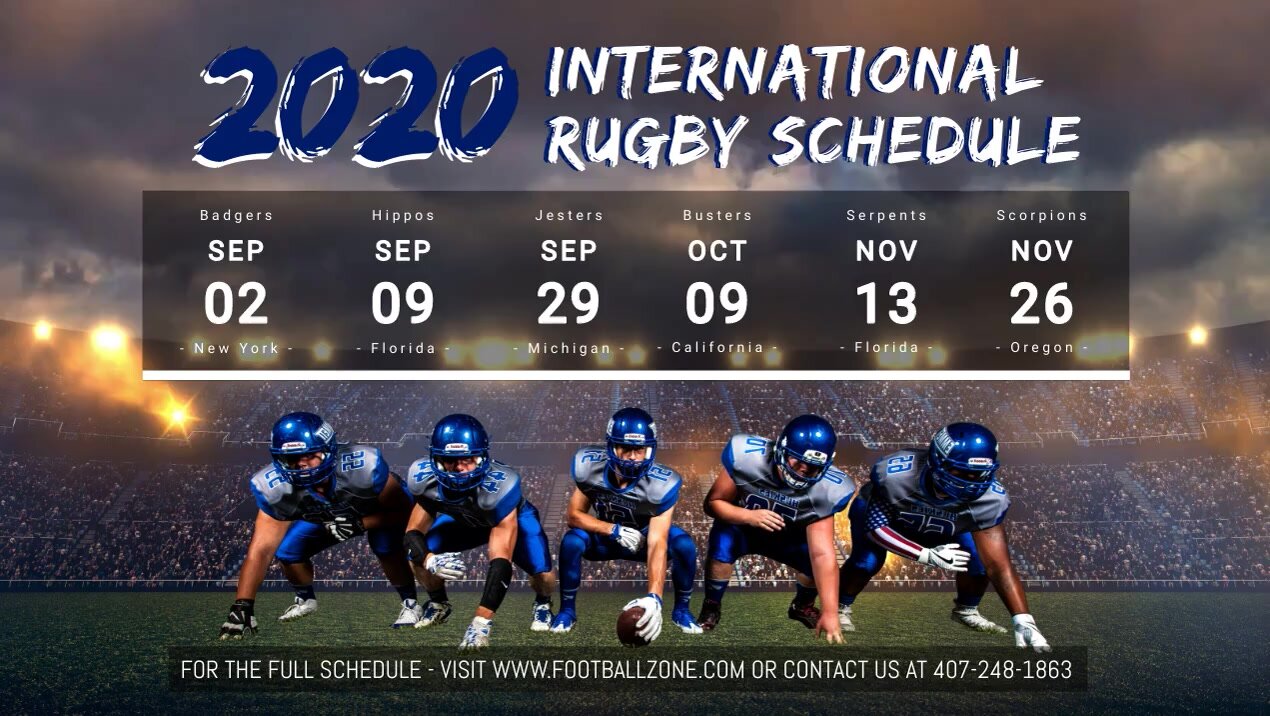 Tables
For spreadsheets, checklists and general organization, tables work best, available in the schedule maker.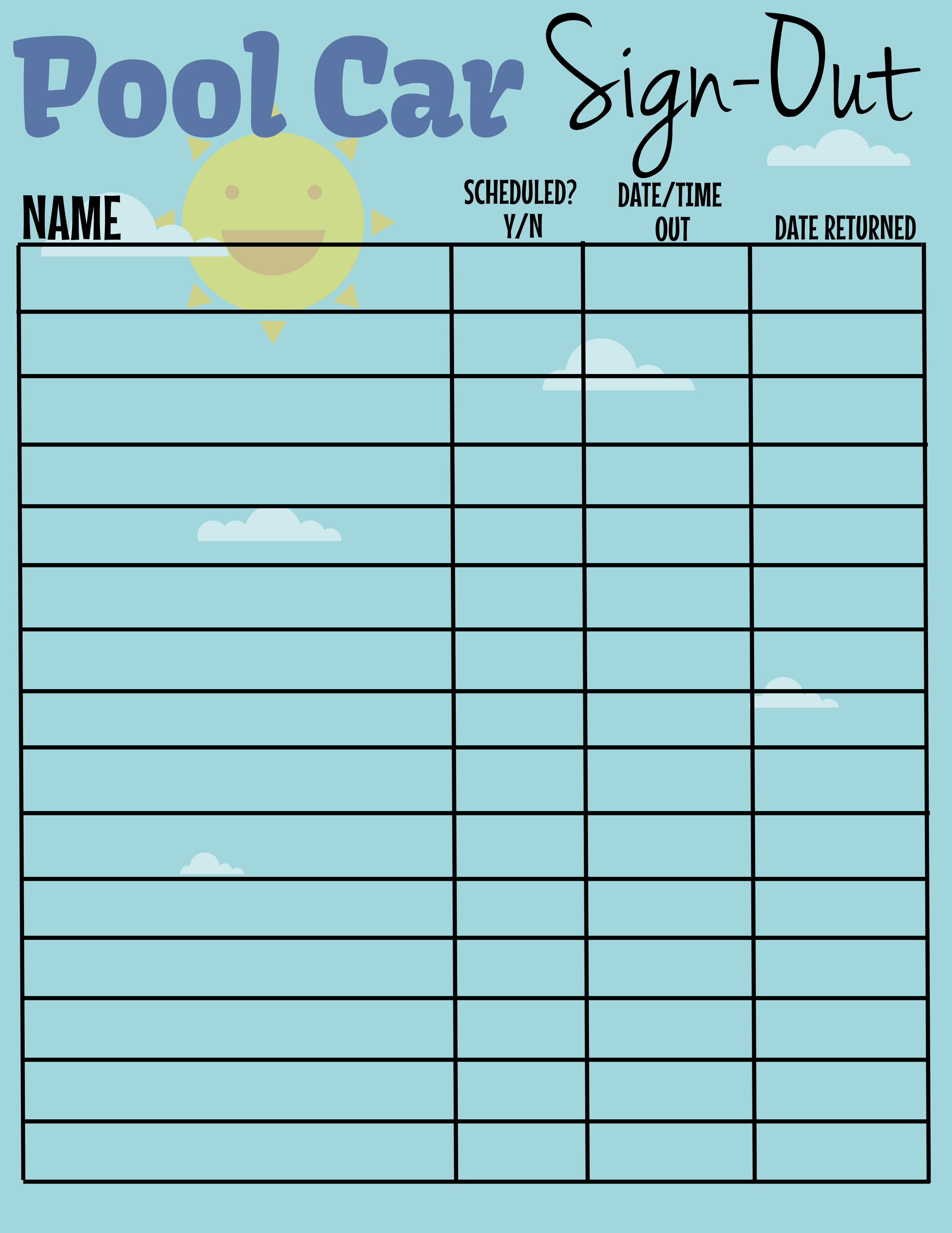 Uses of schedules
There's more to schedules than simply displaying concert or sporting event schedules. If you're part of a Church organization, event organizer, travel agent or part of any business, you can easily incorporate schedules in your marketing.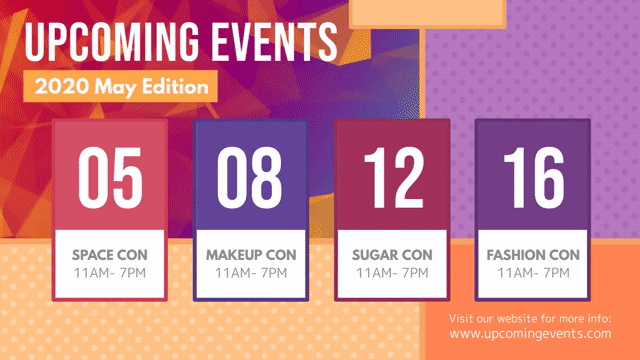 Creating a schedule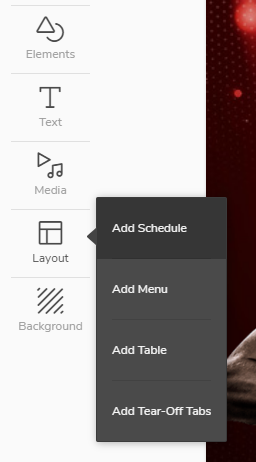 To create a new schedule, click the Layout button in the editor, and then select Add Schedule. From there, you will be taken to the schedule maker: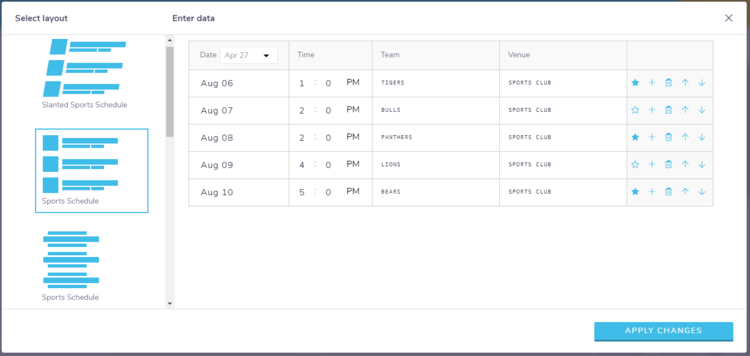 You will notice a whole lot going on here, but don't worry, we will explain everything one by one.
Icons on the right side will come in handy, here's what they do:
Star: Highlights a row. You can highlight multiple rows. You can set different colors for highlighted rows.
Plus: Creates a copy of the row.
Trashcan: Deletes the row.
Up arrow: Moves the row one row up.
Down arrow: Moves the row one row down.
The number of columns in schedules is fixed, though you can change the number of rows anytime you want. In each column, add information such as Date, Time, Team or Venue (team is absent in a band schedule).
And that's everything you need to know about designing schedules. Ready to get started? Design sports posters and band flyers on the go with PosterMyWall.
Senior editor at PosterMyWall.