You know that feeling. You see the comments stream in and the excitement build around the latest Facebook post a local business posted. Deep down you want to see that same engagement for your business.
Social media marketing is not as overwhelming as it may seem. There is an abundance of creative solutions available to make great looking social media graphics memorable invitations to up your social media game.
With the ever-increasing reach and use of social media both as a personal avenue to connect with people and a way to increase the buzz around your business, it is imperative to use creative strategies and think outside the box.
71% of consumers who have had a good social media service experience with a brand are likely to recommend it to others. With the upcoming Christmas season, It's now the perfect time to use social media and the tools available online to make it work for you.
The power of social media
A staggering number of 3.48 billion global social media users in 2019.
Source: VPN Geeks
With social media growing in use on a daily basis worldwide, good social media pages with engaging graphics, videos, etc. can spread the word about your business faster than almost any other form of marketing today. Through social media marketing, you can reach a much larger audience than TV or radio ads can offer. Even more, you can reach out to specific types of audiences. With social media, you can make it easier for customers to build and maintain trust in your business.
Through unique customer experiences on social media, you can create a following that will always be loyal to your brand. You can also interact directly with your customers, address their needs in real time, get their reviews, and reply to them instantly.
The Christmas season offers a unique opportunity to get really creative and show your customers and potential customers a more personal (and festive) side of your business.
Creative strategies to up your social game for the holidays
Choose from a vast array of online resources to create engaging social media content for the holiday season. You don't have to be an expert in graphic design to make your social media page stand out.
We've put together some creative strategies and action items that can quickly create extra buzz for your Christmas party, get people talking about your New Years special, and more. Check it out:
Strategy #1: Create a holidays offer and decorate your profile
With the growing reach of social media, people are browsing through social media more and more every day, so fresh cover photos and profile pictures can effectively motivate them to check your social media pages to look for special offers or gift ideas. This is a perfect opportunity to have fun. Get creative and bring some festivity and color into the mix for Christmas. Even simple things like incorporating a Santa hat or mistletoe works wonders for your brand.
Fun and festive design templates come in handy to help you easily create great looking social media graphics to promote your sale. You can even incorporate catchy hashtags, your company slogan, etc. to drive more traffic towards your social media sites.
How do I do it?
You can easily utilize tools like PosterMyWall that offer hundreds of customizable and catchy templates to create outstanding Facebook covers for your Christmas offers.
Combine elements within your graphic like your business logo, catchy hashtags, or your business slogan to make it personalized for your brand.
Make sure your outstanding new cover photo or social media graphic is shared across all of your social channels! Doing this will ensure your content gets the highest reach and engagement possible.
You can achieve this by creating one design and then simply using the Resize option, like the one offered on PosterMyWall, to post on all social media platforms.
Who does it well?
Seasons Pizza is a well-known and quickly growing national chain of pizza restaurants. They have been delivering pizza, salad, pasta, wings, sandwiches and local favorites for over 25 years. With dozens of locations throughout DE, MD, NJ, and PA, and a rapidly growing social media following, they have mastered holidays Facebook covers.
They created the "Seasons Pizza 12 Days of Christmas" campaign that featured promotions, giveaways, and online engagement with Seasons Pizza customers.
This short-term daily campaign generated quite a buzz and thousands of new followers. With a different cover photo posted each day for 12 days featuring a daily giveaway or offer, Seasons Pizza quickly elevated their social media engagement for Christmas.
Strategy #2: Share the joy of Christmas from a personal side
Social media is meant to be social, so use the holiday season to give your posts some festive spin. You will get people excited not only about the season but also about your brand!
If you stop and look from a more personal side, what do you like about Christmas? Do you know what your customers and followers like about Christmas?
You can create posts that drive engagement by asking things like what their most memorable Christmas moment is, favorite holiday food, the best part of Christmas? This is where opinion polls on social media come in handy. You could also do things like sharing holiday recipes or creating a giveaway in the spirit of giving.
How do I do it?
If you utilize a social media management tool you can bring a personal touch to your social media marketing for the holidays whilst making sure you're covering all the bases across multiple platforms. One platform that does this very well is HootSuite. You can plan out all of your upcoming social media posts in one sitting and have them shared across all of your social media outlets.
You can also utilize tools like Planoly which allows you to visually plan, manage, and schedule your Instagram posts. The holiday season is the perfect time for businesses to increase their target market by capitalizing on the increase in social media interaction, trending keywords, and hot phrases in these social interactions.
Who does it well?
The consumers' co-operative REI that sells sporting goods, camping gear, travel equipment, and clothing is a prime example of a brand that has mastered social media marketing. REI has not only mastered outdoor living but also how to get more people outdoors through their social media channels.
REI has brought a personal side to their campaign, showing their love for all things outdoors and living an authentic life, and is striving to get people to go outside and share memorable moments with their family and friends.
They made waves with the announcement that they would be closing the doors to its retail locations, headquarters, and distribution centers on Black Friday in the U.S. This was alongside the coinciding media campaign #optoutside. REI invited its social media community to join its employees in taking Black Friday off from work — and from shopping — to do what they love most: spend time outside.
Strategy #3: Utilize good quality video content
72% of internet users prefer watching a video to learn more about a product or service versus receiving the same information in written form. For the holiday season, you can easily put together creative videos that touch on things like your Christmas sale, your company's Christmas Party, Christmas Greetings, etc.
Using video content can cover several bases within effective strategies in social media marketing, especially around the holidays. With one single video you can show a more personal side to you and your business, show sneak peeks "behind the curtain" of your brand, and can quickly get people in the Christmas spirit.
How do I do it?
Don't let the idea of creating video content scare you away from social media. You don't have to be a professional to create great engaging content. Use powerful tools like PosterMyWall to create a custom video in no time and get an edge over your competitors.
After you've got the new video complete, make sure you don't just share the video to only one social media platform. You want to make sure your content can reach as many people as possible.
So use your social media management platform to quickly and easily share the content across your social media channels all at once.
Who does it well?
No Sweat is a global brand out of Canada that offers laundry products that are leading the fight against stink and grime in your favorite sports clothing and gear.
They've recently been pushing the boundaries in their social media campaigns in their desire to show their brand is more than just about laundry detergent.
No Sweat's new social media video content is generating a lot of buzz for the brand. The videos offer a glimpse into not only fighting laundry odor but also the people behind the #nosweattribe. Check out some of their latest video content.
Strategy #4: Use disappearing content
Snapchat was the first social media platform to introduce disappearing content. But over the last several years Instagram, Facebook and Twitter have integrated this into their platforms through the use of stories.
Using stories is a great way to give your fans a peek behind the curtain in real time while you're busy creating awesome products for them or delivering your first class services.
You can utilize disappearing stories to create a buzz around live content like the happy customers in your store for your Christmas sale or your team "planning for the party".
Disappearing stories create a direct line of communication with followers that is natural and authentic.
How do I do it?
When using disappearing content, remember to use the swipe up feature in "Stories" on Instagram. Using the 'Swipe-Up' feature can give you that extra push in driving sales and traffic to your website, especially around Christmas time. This feature is perfect for businesses who are looking to share new and easily accessible content or products, right from social media.
For instance, you can create a great Christmas themed Instagram Story showing your team getting ready for your big company Christmas party and include content on the Swipe-Up page about your Twelve Days of Christmas product specials.
Who does it well?
J. Crew started using Instagram Stories and the Swipe-Up tool to promote featured blog posts. They included several related images to introduce the article's premise and then a link that sent viewers to the post. This Instagram Story shows how quickly a brand can get creative with its social media marketing and call To action.
The way J. Crew used stories was to have three images in total, with the last image asking users to Swipe-Up to read the blog. When you add a link to an image in Instagram, the "See More" and upward pointing arrow are added by default. However, J.Crew saw and recognized this as poor performance and supplemented it with the addition of text and coloring features.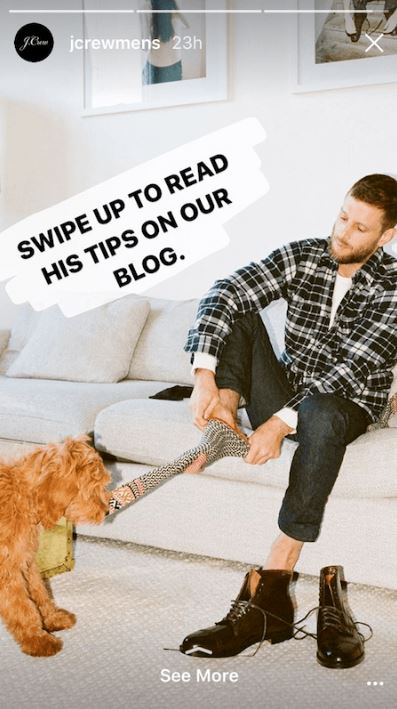 Wrapping it all up
It's almost Christmas and this is by far the busiest shopping season of the year. Now is the time to kick up the festive cheer and ramp up your business' social media game. There are creative solutions available, such as PosterMyWall's thousands of professional design templates, and platforms that help you to quickly and easily share content across all of your social media channels.
Tools like PosterMyWall, Hootsuite, and Planoly can provide the perfect combination to make your social media marketing a breeze. All of these strategies above, as well as these powerful tools, are easy to implement yourself and can kick your brand's social media page up a notch. So gear up for some Christmas marketing and let us know what you think!
Senior editor at PosterMyWall.